Happy New Year! Orders are now shipping in 2-4 business days.
Cotton front.
Two dark layers of poly/cotton inside to block light and add a little padding.
Your choice of soft backing on the side that goes against the face.
Elastic strap is wide and strechy.
Available in several sizes.
Not sure of size? Need a more precise fit? Please see the adjustable elastic strap option here.
Pattern placements will vary. Adult size mask is shown in the stock photo.
To make your cat sleep mask even more cat-ish, add some cat ears!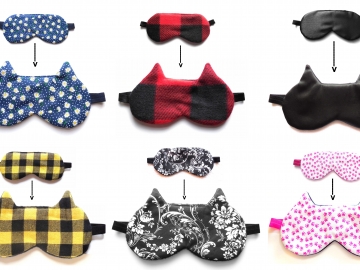 Review This Product